Sproat Location and Amenities
Depending on which direction you're coming from, Sproat Lake is either just after or just before Port Alberni off of Hwy 4.
Coming from Nanaimo, you'll hop on the highway heading North towards Campbell River. This stretch of the highway showcases many of the oceanfront cities and towns; Lantzville, Nanoose Bay, and Parksville. Keep a lookout for bald eagles, deer, horses, and cows as you travel along the Island Highway towards Port Alberni.
Once you've exited the highway towards Port Alberni, you'll pass the exit for Coombs/Errington. Just before the junction to Coombs along the left hand side, you might even see some Alpacas roaming around munching on grass. The road to Port Alberni is beautiful and windy, passing Cameron Lake, through Cathedral Grove, and up and over the Alberni Summit. From here you continue following the main highway through Port Alberni before turning right at the river.
Sproat Lake is home to three provincial parks, and the first one you'll encounter coming from Port Alberni is Fossli Provincial Park. After crossing over the Orange Bridge (that isn't orange anymore), make a left turn onto McCoy Lake Road. This area showcases the plains of the Alberni Valley, with farming fields hosting both animals and produce. Continuing along McCoy Lake Road, take a left onto Stirling Arm Drive, left onto Ash Main, and right onto Stirling Arm Road, after about 4km the trailhead will be on your right hand side. Park as far over as possible to allow others room to park or drive by. Access to this trail does require driving on logging roads, so please be aware and always give logging trucks the right of way. Once you've parked, follow the road down the hill, staying left until you reach the trailhead. Fossli Park is a 3.4km easy trail with 93m elevation gain, perfect for all levels. The trails open up to a beautiful beach where you can swim, have a picnic lunch, and take in the views before hiking back up to the trail head. Fossli is home to some of the most beautiful and lush forest in the Alberni-Clayoquot District; ferns, birch and old growth trees, all covered with dense green moss from the waterfall and river running through. Some areas of the trail feel like you've stepped into a magical world far from our own.
Sproat Lake Provincial Park
Our next stop is Sproat Lake Provincial Park; continuing along Hwy 4 from Port Alberni, make a left at the Sproat Lake Provincial Park sign, you'll pass an earlier exit on the right which will take you to the Upper Sproat Lake campsites. Once you've turned left, stay left and follow the road down to the lake. Here you can launch your boat, relax on the beach, camp, or adventure along an easy nature path to see some of the best examples of Petroglyphs in British Columbia. This is one of the more popular places to be along Sproat Lake, thankfully, it's never too busy to find a perfect spot on the beach. After you've parked, carry on towards the water where you'll find a trail heading either left or right along the lake. If you take the path to the left you'll eventually end up at the famous Petroglyphs which were created hundreds of years ago by Indigenous peoples who first inhabited the Valley. The Petroglyphs are found on a rock face on the lakes edge and can be accessed by a floating platform, which was installed to help protect the images.
Taylor Arm Provincial Park
Our last stop on Sproat Lake is Taylor Arm Provincial Park which is about 10km past Sproat Lake Provincial Park. Taylor Arm offers group camping as well as beach access. Turning right off of Hwy 4 at the Taylor Arm Provincial Park sign, there is a small parking lot, with some parking off of the highway as well. To access the campsites, continue through the parking lot up the gravel road. Access to the beach can be a bit tricky the first time, as the trailhead can seem hidden at first; at the entrance of the parking lot on the left hand (or highway) side, you'll find a map, the trailhead is just beside that. Follow the trail down the hill, under the bridge, and along the creek. The trail opens up to a breathtaking view of the lake; there are plenty of spots along the beach to choose from, some more secluded than others, but you'll be sure to find the perfect spot. The Taylor Arm section of the lake is surrounded by mountains, it's a peaceful spot for a quick dip to cool off, or a day spent lounging on the beach.
Sproat Lake and the surrounding areas also offer some spectacular hiking opportunities. Across the highway from Sproat Lake Landing, turn right if coming from Port Alberni or left if coming from Tofino, stay right going up a hill, then turn left down a logging road. You can park just before the bridge or continue up further where you'll find a handful of trails to choose from; the Sproat Lake Lookout, Teodoro, and Weiner Falls. These trails range in difficulty, from easy to moderate, Weiner Falls is the easiest at 4km, Teodoro is moderate at 5.6km, and Sproat Lake Lookout is also moderate at 7km. Always remember that you are in the wilderness and in the presence of wildlife, the Alberni Valley is home to bears and cougars, so come prepared. It is recommended to always let someone know where you are going and how long you expect to take, have a fully charged phone, map of your route, plenty of water, and food. Bear spray is also handy to have with you in the case of an emergency. Pack out what you pack in, keep our forests clean and free of garbage. It is also recommended to keep dogs on leash or under your control at all times.
Sproat Lake is the perfect place to spend time at year round. It's an ideal place to cool off during the hot summer months, and each season brings a new element to the surrounding forests and trails. Whether you're passing through on your way to or from Tofino, it's somewhere you'll want to stop and explore.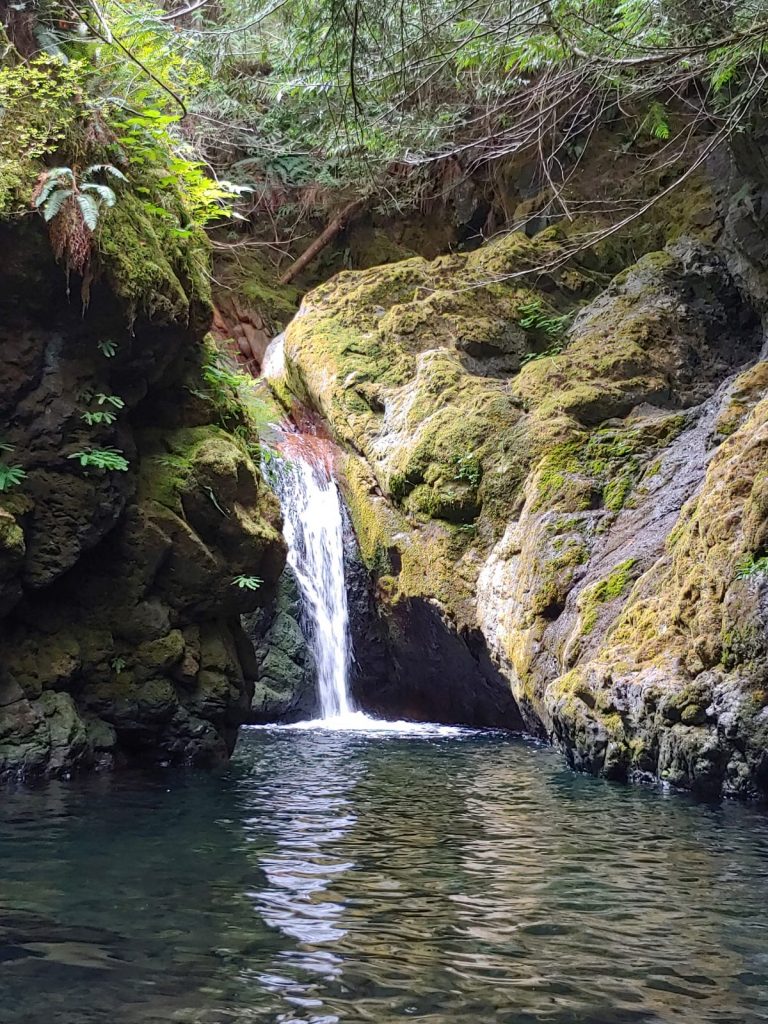 Written by Nicole Brazzle, at the Valley Vibe. Port Alberni's fast growing community and online magazine. The passion here at the Valley Vibe is to showcase the beautiful of our valley for all who live here, and travel through. Working together with many talented writers, we at the Valley Vibe love to explore, discover and uncover secret jewels about Port Alberni and Sproat Lake. 
Contact us for information on available homes, market activity or to be added to our database of buyers and sellers interested in Sproat Lake properties.